Our starting price of 70 USD includes the same level of creativity and attention to detail that we provide to multinational companies. With our professional design team, you can be sure that your product logo will grab the attention of your customers and set your brand apart from the rest.
Don't just take our word for it - our satisfied customers speak for themselves. Here's what one buyer had to say: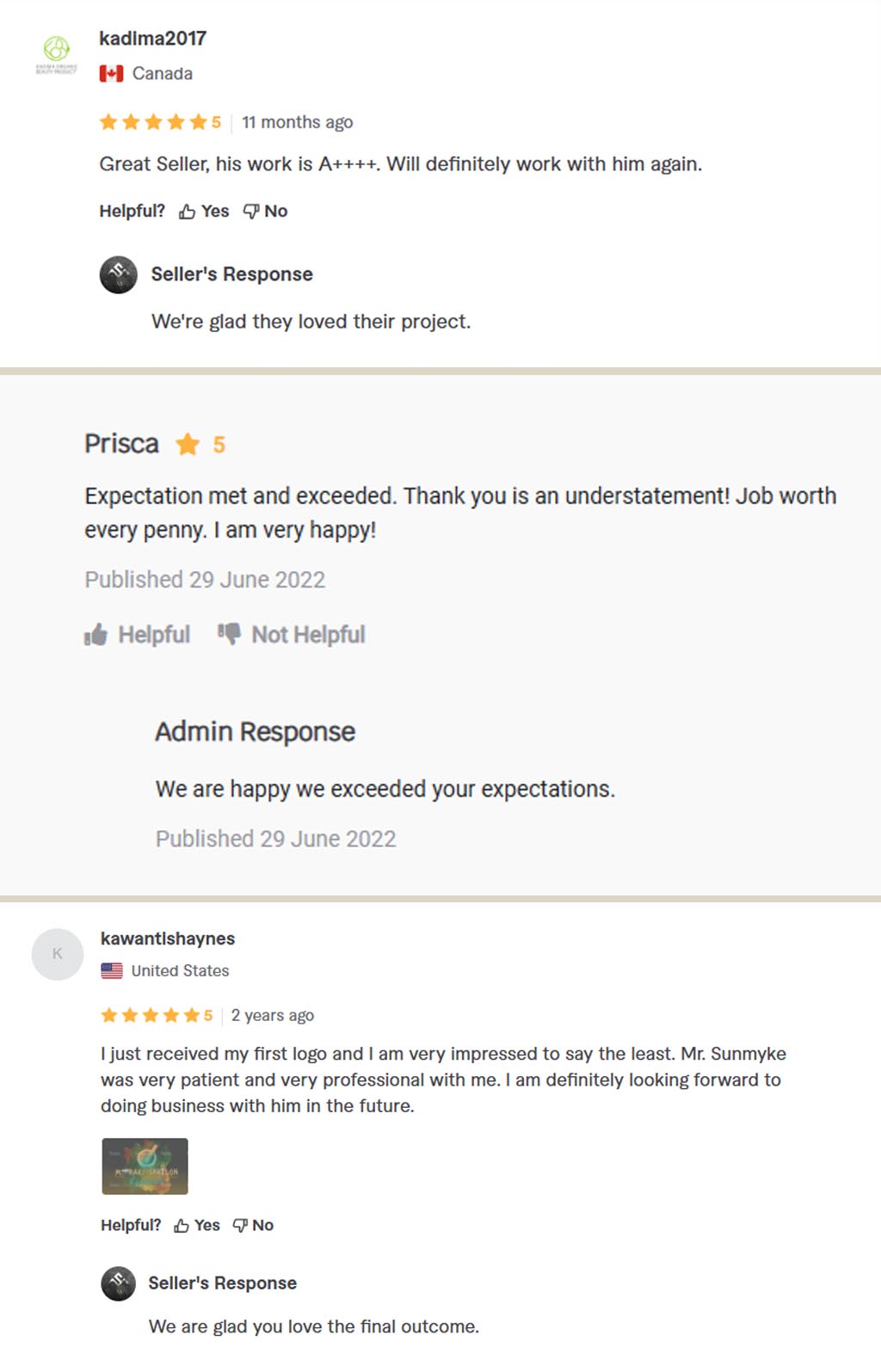 Say goodbye to generic, premade logos that fail to capture your brand's unique essence. Invest in a custom product logo design that is tailored to your specific needs and designed to resonate with your target audience. You won't regret it.
Now you have every reason to invest in a quality design that will take your brand to the next level. Don't miss out on this opportunity to showcase your product in the best possible light. Contact us today to get started!
This service is for you
If you're just starting a new product or product line or you want to redesign your existing products.
Designed by product Logo designers
Our team of experienced logo designers combines creativity, research, and strategy to craft distinctive product logos that boost sales and stand out in the marketplace.
We specialize in cosmetic and organic product logo designs, as well as business logos and occasion logos such as conferences and anniversaries. Our team is dedicated to providing patient and understanding service to all of our clients. Contact us today for a free consultation using our service inquiry form.
---
HOW WE WORK WITH AMAZING YOU
Order and receive the first draft:
No rigorous processes and endless phone calls, meetings, and form fillings. Once you place your order, you'll be directed to your account where you can submit any required details. We'll then get to work on your first draft, which we'll attach to your account within the stipulated timeframe for your review.
Revisions:
After reviewing the first draft, you can submit any edits or revision requests to us by attaching them to your account. We'll then make the requested changes and advise you to be clear and specific in your revision messages to save time.
Completion:
Once all corrections and edits are completed, we'll attach the final file back into your account for you to download. In the case of large files, we'll provide a download link via your account for convenience.
---
Kindly send all information necessary for your project, such as the product name, any specific design ideas you may have, and any other relevant information we must know to help you craft a great product logo.
Your project source files (or editable files) will be delivered in either Adobe Illustrator or CorelDraw formats, both of which are vector-based programs. However, if you need your final files to be delivered in different formats, kindly indicate this after you've placed your order.
Please note that we will also provide you with high-quality image files in various formats (JPG, PNG, PDF) that you can use for various purposes, such as online or print marketing materials.
---
FAQ
Why do you set the price you set?
Our goal is to offer beautiful designs that help drive business growth at an affordable price. We understand the challenges small business owners face, and our pricing reflects our commitment to helping them succeed.

What will I get if I buy from you?
When you buy from us, you'll receive a high-quality product logo design, as well as all the necessary files, including the vector file for print production and a web-ready version. You'll have full rights to your final project for commercial use.

Why Should I buy from you?
We believe that we offer a unique combination of experience, creativity, and dedication to helping businesses grow. If you want a customized solution tailored to your brand and business, then we believe that we are the right choice for you.

How many logos does this cover?
Our service covers one logo design, but we can provide different options for you to choose from.
I have up to 10 logo design requests can you give me a discount?
Yes, we offer discounts for bulk projects. Please use the "Service Inquiries" button to contact and discuss your specific needs.
What if I do not like the Logo you designed?
If you're not satisfied with our work, we offer a refund policy. Please see our policy for more information.
What if I'm not available often to follow up on my project?
No problem! We'll work on your project and provide regular updates. You can log in to your account to review the progress anytime you're available.
I have a rough sketch I want you to follow.
Yes, we can work with your rough sketch and bring it to life.
Can you do a specific Logo design style?
Absolutely! If you have a specific style in mind, please send us an image sample of what you're looking for.

I have a bulk project, can you handle it?
Yes, we can handle bulk projects. Please use the "Service Inquiries" form to contact us and discuss your specific needs.


Let's Chat
I have more questions or need a customized quotation
Use "Service Inquiries" below the buy button, Contact us OR WhatsApp SunMyke