Hello, This is SunMyke
At SunMyke, we specialize in Design and Creative Solutions, offering services such as Graphic design, Website design, Print production, and more. Our founder and team members are seasoned professionals with extensive experience in various digital industries, having worked with diverse clients and businesses in both agency and freelance settings. Our goal is to connect with you and help elevate your projects and businesses to new heights. Welcome to SunMyke!

Let your business fly!
The pandemic has transformed the business landscape, demanding new ways of conducting business. At SunMyke, we understand the need for fast and accessible creative design services that can be seamlessly integrated into the comfort of your home or office. With our online collaboration platform, we are dedicated to addressing your graphic design challenges and providing effective solutions for your business.


---
---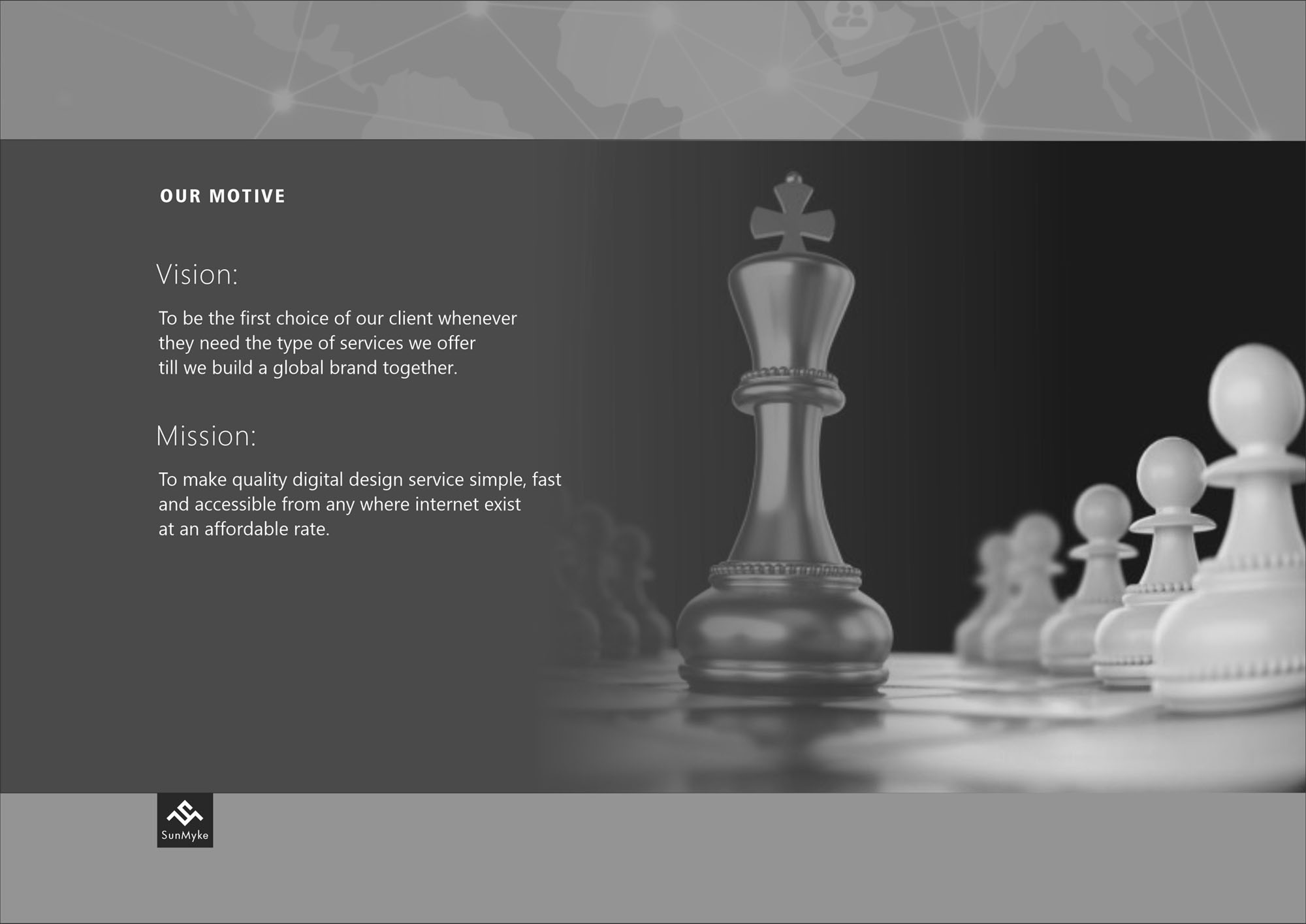 OUR QUEST
We are very passionate and want to help you bring your vision to life.
We Complement
We act as a complement to your in-house team, we have members with diverse skills and styles in our team. This is also a better way to outsource your work and increase your productivity while boosting your sales as well. If you don't currently have a graphic designer or graphic team for your business then, we can be your entire creative team.
To buy a service here, simply explain your vision, make it clear, and let's get to work. Read. How and what to write in your brief here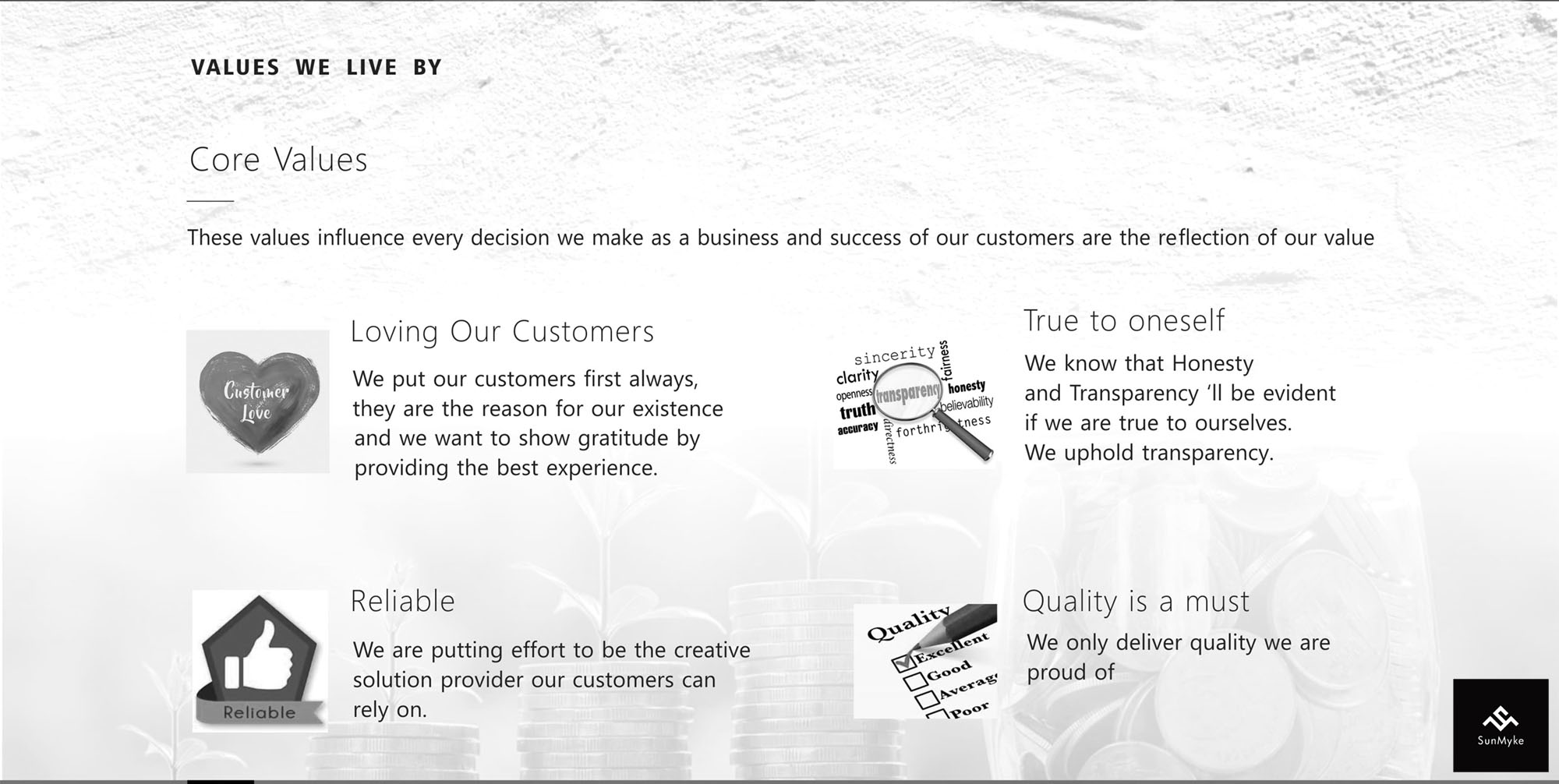 STORYTIME
The founder started the business under the name SunMyke Creation back in 2012 providing graphic design, screen print, and printed marketing materials supply services respectively to individual start-ups and small businesses when he completed his one-year mandatory NYSC service after the 3rd year of his college graduation.
In the quest for knowledge, he moved to Lagos in mid-2013 and worked with a couple of organizations including Grandeur Limited; an Integrated Marketing Agency where he handles, companies and multinational company brands such as ASTRA ZENICA, GlaxoSmithKline[GSK], Novartis, and AUTOMAZE LIMITED and also worked with training and consulting agencies around 2016 in Abuja.
He handled a brand for Top-Wide Industries Limited in 2017 and has since provided freelance creative design services to businesses globally on a freelance website with over 600 hundred positive reviews from customers.
In the hope of reviving the offline aspect of his business, he registered "SunMyke International" with Corporate Affairs Commission C.A.C (https://www.cac.gov.ng/) in Nigeria in December 2019 with registration No.: 3037382 before the COVID-19 disruption.
To match up with the ever-growing Gig economy and be able to render effective, flexible, and cost-effective service, In mid-2021, SunMyke decided to start redesigning their blog site ( owned since 2013 ) to reflect the Gig service model of operation since May 2022 and striving for ways to improve.


---
MEET THE FOUNDER
Me in a Nutshell:
SMichael Adeleye is an Artist | Designer | and a Print man who occasionally plays with a microphone and music software when he's not designing. Enthusiastically would want to draw most things he sees while growing up as a child which motivated him to pursue a career in the field of Arts, Design, and Printing.

Early in his career, he learned to design without the use of a computer; he got access to a computer in 2006 during his industrial training where he learned the use of a computer. He owned his first computer in 2011 after graduation from college and has been creating designs on computers since then.
Despite being so multi-skilled, he carved a niche in cosmetic label design in 2017 as he realized a need for it and became one of the top freelance graphic designers in Nigeria handling cosmetic package designs.


---
HE SAID
To The Creators:
Everyone has a portion of talent to improve the world, So, I acknowledge creators and innovators who also are contributing their quota to improve society every day including those that people don't know about.
---
His Quotes:
Knowing what, how, and when can be cumbersome and time-consuming, once you know, don't waste time -SunMyke